Posted on August 31 2020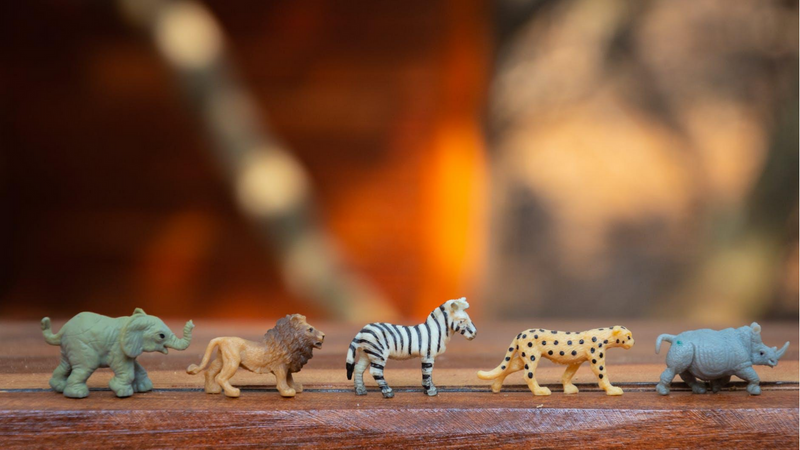 Themed Learning: Wild Animal Activities for Children
Wild animals are very interesting for children and there are so many of them!
It's a lot of fun to teach your child about the different species and where on earth they can be found. Wild animals are beautiful and there's a lot of power to them.
So, if your child is interested in wild animals, here are a few wild animal-themed activities to help make learning fun!
Wild Animal Footprints
If your child has a collection of wild animal figurines and/or wild animal plastic toys, it's time to give them a different use.
This little art project is very simple and easy, which is perfect for when your children are not in the mood for something too complex.
Just grab some cardboard, take the toys, and make wild animal footprints on the cardboard using paints in different colours for each animal.
I recommend you do a little research beforehand, so you can explain why all animals have different feet and how these differences help them in the wild.
Pair this activity with some useful threading techniques with our wooden animal bead stringing blocks.
Jungle Sensory Play
Sensory bins are always a great activity to put together for children. The best thing about them is that you can make them themed.
Easily make a jungle sensory bin for sensory play by just taking elements that can be found in the wild (your garden or local park will do too). Anything from grass, leaves, rocks, sand, sticks and more.
Create different environments in different boxes, and let your children take their wild animal toys and have some fun in the various sensory bins.
Wild Animals Dress Up and Move
Kids love to dress up, we found these super cute wearable cardboard wild animals, masks and scarves or onesies work well too. Get your little ones to dress up and play indoor games such as Musical Statues, Balance Beams or the Tape Shape Game from our previous post. 
For the little ones have a look at our super soft play mats which are perfect for tummy time and kiddie yoga which is fantastic for building core strength and balance.
Wild Animals Play Dough
Making things out of playdough is great, but making wild animals out of play dough is even better especially for this learning theme.
All you need is the right colours! You can take this activity to the next level by making your own playdough with your kids.
Explain to them how to make the different shapes that make up each animal and have pictures of the animals for reference.
You can use toothpicks to hold the limbs of the animals together if necessary!
Your children won't only enjoy making wild animals but also playing with them afterwards.
All these activities are great if you want to have a ton of indoor fun with your children and encourage their interest in wild animals at the same time!