Posted on December 07 2020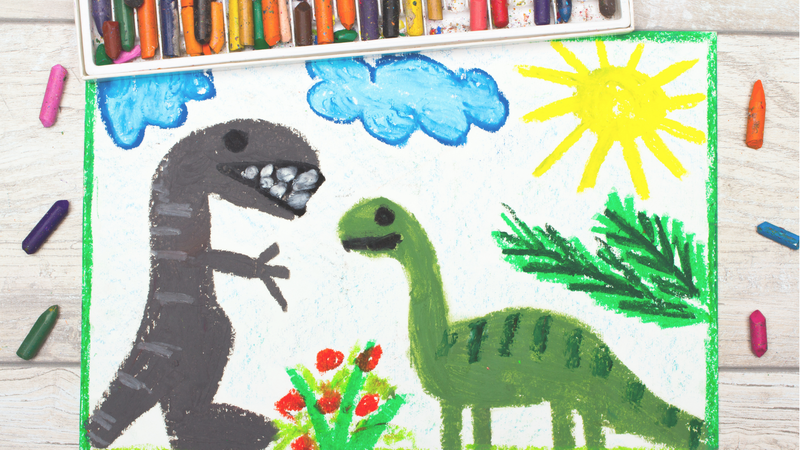 Children love dinosaurs. Sometimes it's just a phase and they grow out of it, other times it becomes a lifetime passion and hobby. Either way, you want to encourage them to explore the things they love. One of the best ways to do that is through play and fun activities that are tailored to their interests. That's why today we bring you a few super fun dinosaur themed activities to share with your little ones!
Dinosaur Literacy
Exploring dinosaurs, their history, and all the different kinds that once walked the earth is a great way to expand a child's vocabulary and improve their language skills, reading skills, storytelling skills, syntax, and more.
So, get your children books about dinosaurs that are fun to read and create a cozy reading area, maybe a pillow fort, where you can sit down, read together, practice spelling, and have fun discovering more about dinosaurs.
Dinosaur Eggs
If your child is having a hard time learning new words at school, dinosaur eggs can make things a bit easier.
All you need is:
Plastic Easter Eggs,

A dice

Paper with letters, phonetic words, sight words, and/or sentences.
You want to number each egg and then have your child roll a dice.
The number they roll will determine the corresponding dinosaur egg and in turn reveal their challenge paper.
If they read the paper correctly, they get to keep the egg.
If they don't, the egg goes back to the nest.
You can make this a competition if you have more than one child.
If not, each egg can represent a treat, which they will get at the end of the allocated play time.
Dinosaur Walk
Dinosaur walk is a lot of fun and it's easy to set up!
All you need to do is print dinosaur footprints, cut them out, or have your child cut them out for a bit of [scissor work]. [link to scissor work blog]
Then, write down words, letters, phonetic words, or sentences on the footprints.
Lay them out like stepping stones and have your child read the words as they walk.
Dinosaur Patterns
For this one, you want to draw the silhouette of a dinosaur on a big piece of paper.
Then, cut out a bunch of triangles from different colour construction paper. You can have your child cut them out as well.
Then, have your child attach the triangles as scales by sticking them to the dinosaur while creating patterns.
The challenge is to create different patterns! More complicated patterns with older kids
Dinosaur Skeleton
For this last dinosaur activity, you're going to need playdough in different colors or something similar.
You can take this craft a step further by [making your own play dough] with your children and using food coloring to create different colors. [add link to playdough recipe blog]
Once you have the play dough, have your child flatten it onto a plate or tray and make sure it's at least ¼ inch thick.
Then, make a dinosaur impression on that surface using different shapes of dinosaur toys, leaves, sticks.
 Then, make a hole at the top so you can hang your piece of art when it hardens.
Allow the playdough to dry and when dry coat with a matt clear varnish this will keep it's integrity for a long time. (probably best for parents to do this part if your little ones are very little.)
Have a look at some of out Dinosaur themed products for some more ideas: