Posted on March 15 2022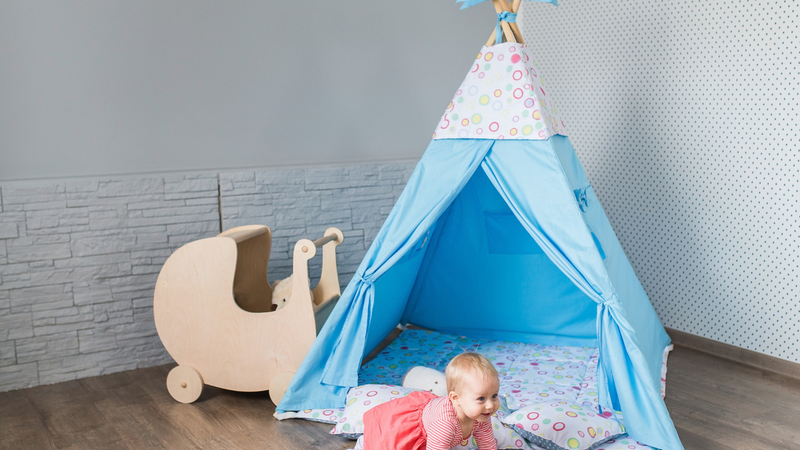 Imaginative play is most beneficial to early childhood development. It's from the place of make-believe that a great foundation for kids begin. Teepee tents and play houses are an important part of play-therapy.
Teepee tents and play houses create a safe space where an entire world can develop in a child's imagination. By providing such you are guiding your child towards imaginative play and supporting their early childhood development.
Early Childhood Development
Fostering their creativity – imaginary play in make-believe worlds, when tents are decorated to a theme or colour scheme lend themselves to a vast variety of fantasy games.
Develop problem solving skills – putting up or taking down a tent, decorating or furnishing a play house.
Encouraging Independence – giving them the courage to roll-play and make friends in their own safe environment.
Allowing them to identify with adults – pretending to play house, dressing up, caring for baby dolls, pretend cooking, cleaning and of course tea parties.
Aiding in language development – with new worlds to discover come new words and questions and an ideal time for enquiring minds to seek out the answers.
Developing social skills – tents offer a great opportunity to engage with other kids, to create a fantasy world or situation that can be fun to act out.
Imagination Play
Whether navigating the African plains or taming beasts in the wild jungles, researching the woodlands or discovering the joys of camping under the stars. iKids has a teepee or play tent to suit your needs. If princesses need rescuing or princes need a place to lay low, fairytale folk can dance and play and even if the world is indeed a stage iKids has a playhouse that's just perfect for your little one.
Physical Benefits of Tent Play
Not only are there benefits to imaginative play, but there are also physical benefits to children playing in tents.
Gross motor Skills:
Building or putting up the tent
Crawling in and out of the tent
Packing toys, pillows, blankets and the like in and out of the tent
Fine Motor Skills:
Zipping up and down, the zipper-doors
Tying back the curtains / doors
Tea parties in tiny houses
Decorating
Preparing for Camping Holidays
A great way to prepare a child for a camping holiday is to practice camping and get them accustomed to the idea of sleeping in a tent. Introducing them to the way things work when you are camping out in nature. How sleeping arrangements will work, how meals are prepared, how to tidy up and keep tents neat and tidy to enable all to find things.
Start by putting up the tent indoors and perhaps then moving to a night or two out in your garden or back yard to establish what it will be like.
Prepare them for the noises of the animals that you may encounter, the wind that may blow, or even the possibility of rain.
Show them pictures of the camp site or sites that you intend to visit and highlight the activities that will be available to them at the campsite or caravan park. Tell them that there may be other kids if travelling with friends, or that there is an opportunity to make new friends as there will always be kids looking to make new friends at campsites.
Whether you are preparing for a family camping trip, or encouraging imaginative play, teepee tents and play houses are a great way to explore and encourage children and prepare them for all of life's possibilities.