Posted on January 11 2023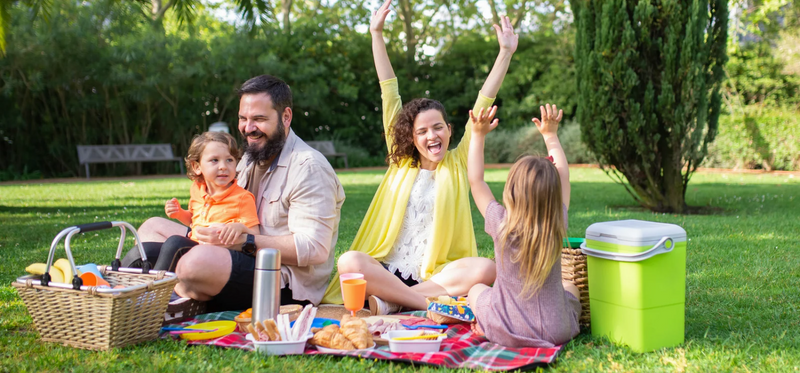 Summer picnics are the best and it's a great way to spend quality time with family. Taking your favorite foods and snacks, playing games, and talking about anything and everything is one of the best ways to spend a sunny summer day. To help you prepare, here are a few summer picnic ideas for families with kids!
The Best Summer Picnic Ideas for Families with Kids
Delicious Food
A picnic is not complete without delicious food and snacks. You can have a themed picnic and surprise everyone with delicious food. For example, you can have a finger food picnic and make sausage rolls, mini pizzas, fried mac and cheese balls, and more. You can also keep it simple and make a main meal but also bring snacks like muffins, fruits, a cheese platter, etc. Just make sure the food you make is picnic-friendly and don't bring more than you need.
Choose the Location Wisely
Choosing a picnic spot is the most important thing because it will determine how good of a time you'll have. For instance, you can go to a local park with plenty of shady spots or a roadside rest area with picnic tables and available bathrooms. By contrast, the beach is not the best idea for a picnic because it's not the most comfortable location and sand can get all over the food.
Fun Games
Picnics are not just about great food and comfort, they're also about having fun, which is why you need to plan games. Now, there are many games you can enjoy under the sun. Such as a ring toss competition, Jenga, nature scavenger hunt, sack races, bean toss, and more. You can also bring a frisbee, a ball and a bat, and other toys your kids might enjoy. Of course, you could also play the classics, like hide and seek, musical chairs, and more.
Pack the Essentials
It's very important that you're well-prepared for the picnic. Otherwise, it will be difficult to have a good time. You will need a picnic blanket, food, drinks, utensils, toys and games, sunscreen and mosquito repellent, water, hand sanitizer, and anything else your family might need. If you have a small child, pack their essentials as well; diapers, wet wipes, etc. Be prepared and you'll have a great time.
Keep Your Comfort in Mind
When you're planning a family picnic, it's important to keep everyone's comfort in mind. Bring all the gear you need so you can relax and enjoy yourselves under the sun. For example, you can bring folding chairs so you're not always sitting on the floor, an umbrella in case there's little shade, a cooler to keep the drinks nice and refreshing, etc.
The truth is that you don't need much when you're planning a picnic with the family. The simpler, the better! Remember, a picnic is about having fun, so you don't want to be stressing over the food or anything else, you just want to focus on spending time with your family.