Posted on January 25 2023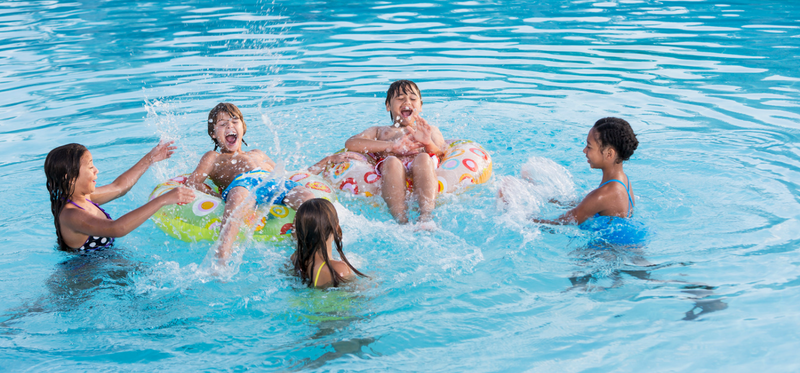 One of the best things about summer is that you get to have a lot of fun in the pool! There's nothing like taking a dip and cooling off, but it's also great to engage in different games and activities. If you don't know where to start, here are some of the best ideas for some pool time fun!
5 Games and Activities to Enjoy in the Pool
Pool Basketball or Volleyball
If you have a net or a hoop, you can play volleyball or basketball in the pool and have a lot of fun with some healthy competition. The great thing about these games is that you can play one-on-one or create teams to playfully compete against each other. Volleyball and basketball are both simple games and they're a lot of fun and everyone will get a good workout.
Diving Contest
One of the easiest ways to have fun in the pool is with a diving contest! Everyone will have a turn diving into the pool to see who can get the biggest splash or who can have the most awkward belly flop. The person who gets the most laughter or applause wins the game. However, make sure to always exercise caution to avoid accidents or injury.
Pool Floatie Race
For this game, you'll need pool floaties or rafts, which must be big enough for players to sit on. Now, this game is very simple! You just need your players to line up at one end of the pool on their floaties or rafts and a referee. Once the referee yells go, the players will have to get to the other end of the pool without falling. If they do fall, they will be have to start from the beginning or they can get a time delay or even be disqualified.
Pool Tag
Freeze tag is a classic and it can be played in the pool! You just need to make sure all the players can stand with their heads above water, so it's best to stick to the shallow end of the pool. One player will be "it" and they will try to tag the others. When a player is tagged, they have to freeze until someone else can unfreeze them by swimming between their legs. Also, players can't be tagged if they're underwater, which makes things a little bit more interesting.
Marco Polo
Marci Polo is another classic and it's easy! It can be played between two or more people. To start, you need to pick who will be "it" and blindfold them. Then, "it" needs to count to a certain number so the other players can scatter around the pool. Once the player finishes counting, he will yell out "Marco" so the other players can answer "Polo" until "it" can find and tag someone. When a person is tagged, the game starts over with the person being caught as the new "it" player.
As you can see, there are many games and activities to have fun in the pool. These are only a few ideas, but there's a lot more where that came from. Just make sure to put safety above all and everyone will have a great time!