Posted on December 21 2022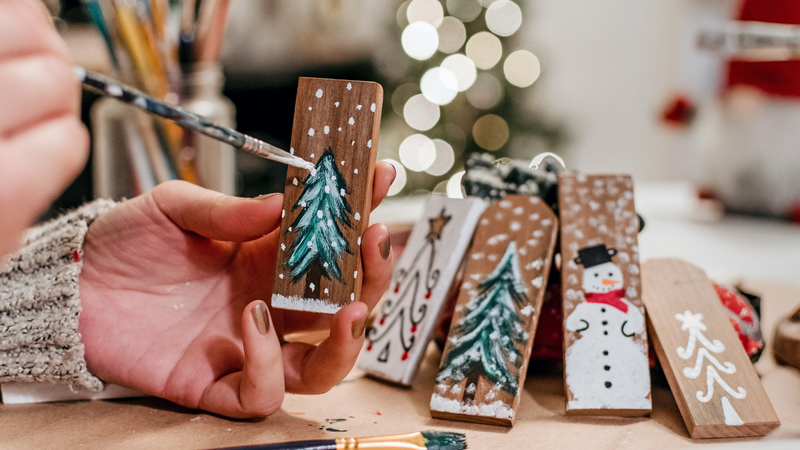 Making Christmas crafts with your kids is a lot of fun, especially if you can showcase the finished product and use it as décor. Today, we bring you a few fun ideas so you can spend some time making Christmas décor with kids to display around the house and brag about to friends and family.
3 Ideas to DIY Christmas Decor
Santa-Shaped Advent Calendar
Making a Santa-Shaped Advent Calendar is a lot of fun and the process of filling out Santa's beard every day will also be a lot of fun for children. By the time Christmas comes, the beard will be complete, providing a nice sense of satisfaction.
To make this cute Christmas decoration you can hang in the kitchen or your child's bedroom wall, you need to cut the shape of Santa's face from white craft paper.
Then, use construction paper to cut out the cheeks, eyes, nose, and hat. From the same white craft paper, you want to cut a long beard shape, large enough for the dates of the month. Then, hang the calendar and have a bowl of cotton balls nearby so children can glue one on the beard every day until it's full.
Felt Christmas Wreath
Christmas wreaths are classic Christmas decorations and you can make one with your children. All you need is green felt, some cardboard, and string or a ribbon. You should buy the felt in two shades of green to make the wreath a bit more interesting.
Once you have everything, the first thing you need to do is cut the cardboard into a circle with a hole in the middle, like a wreath. Then, cut strips of green felt and tie them around the cardboard wreath shape you made.
You can finish it off with small red ornaments, which you can also make out of felt, and glue them on using hot glue. When the wreath is done, you can loop a wide ribbon or piece of string around the top so you can hang it.
Pinecone Christmas Tree
Making a Christmas tree from a pinecone will result in an adorable decoration and if you make a bunch of them, they can be lovely little gifts for friends and family. You will need pinecones, wood slices, stars made of wood, a hot glue gun, paintbrushes, and acrylic paint in green, yellow, white, blue, and red.
The first thing you need to do is paint the pinecone green and let it dry. Make sure it's fully covered, which may take two coats of paint. Then, you want to take a small paintbrush and add small dots all over as Christmas lights. Use red, yellow, and blue.
Then, take the white paint and paint the tips of the pinecone so it looks like snow. Paint the wooden stars yellow and let them dry before gluing them on the top of the tree. Lastly, glue the pinecone Christmas tree onto the wood slice and there you have it! A lovely Christmas décor.
For other festive décor ideas do have a look at www.ikids.co.za there is a wide selection of lights, bunting, advent calendars, stickers and tattoos to choose from.