Posted on July 24 2019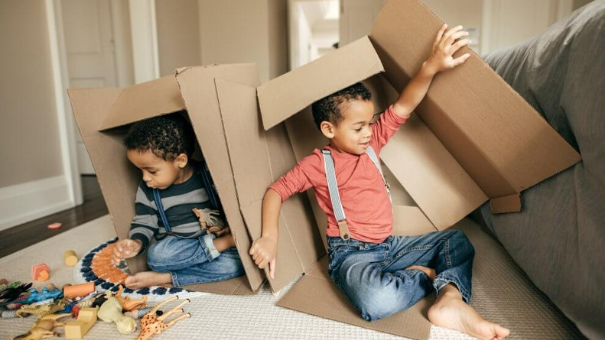 Imaginative play is all about allowing children to use their imagination to create role-play scenarios they have either seen or they would like to experience. Imaginative play comes very naturally to kids and it has no rules or goals. However, that doesn't mean children don't learn a whole bunch from engaging in this kind of play.

Imaginative play does a lot for your child's development, not only allowing them to relax from chores, but also improving social skills, communication and language skills, problem-solving abilities, etc. What's more, this kind of play makes children happy! So, here are a few ideas you can pitch in to your children to encourage this kind of play.

1. Cook A Meal

One of the things that children like to act out the most is all the ordinary things they see us do. Cooking is one of them, so encourage imaginative play by laying out some cooking utensils, equipment and ingredients for them to cook an imaginary meal. You can encourage them to use play dough to make a meal or maybe even bake cakes, cookies, and more. The sky is the limit for them, just let them be free and prepare to sit down and enjoy whatever they whip up for you!

2. Picnic or Tea Party

Throwing a picnic is one of the classic imaginative play ideas out there and that's because it's so damn fun. Just hand your children a blanket, a basket and some props so they can throw their own imaginary picnic with their favorite toys and friends.

Another fun variation is to throw a tea party, so you might want to invest in a nice little childrens tea set for your them to use. Set up a small table and help them organize this fancy event with all their favorite toys.

3. Superhero Play

If your children are huge fans of the Marvel or DC universe and they've found idols in these characters, then allow them to engage in a little bit of superhero play.

You can get them full costumes of their favorite characters or you can simply put something together with what you have at home and create a new character entirely.

Either way, this will be a great imaginative play activity that will keep your children coming up with different scenarios for hours on end.

4. Run a Store

Running a store is another role play activity and you can help your children set up the scene.

You'll need a counter, a cash register and something to sell, which can be toys, candy, clothes, and many other different things so your children can play pretend.

5. Cardboard Box Play

The great thing about cardboard boxes is that they can be turned into anything; rockets, spaceships, buses, cars, houses, you name it.

Help your children put something together and then have fun coming up with scenarios.

They'll have a great time coming up with new ideas and you'll be amazed at what they can create using only their imagination.