Posted on September 21 2022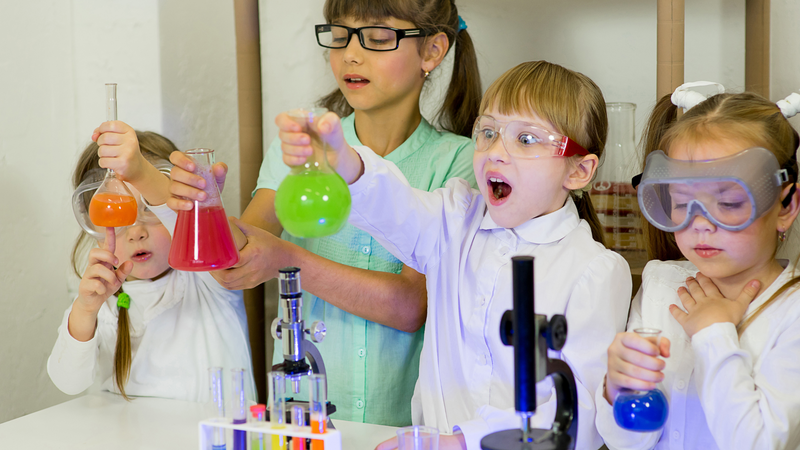 Science helps us make sense of the world, so it's a very interesting topic to explore with children from a very early age. Kids are extremely curious about the way things work and they can learn a lot at home with fun and easy science experiments.
There are thousands of things you can do, but we narrowed it down for you! Here are a few of the best fun and easy science experiments for kids that you can do right at home.
4 Fun and Easy Science Experiments for Children
How to Stop Apple Oxidation
For this science experiment, you'll need an apple and a variety of different liquids. Such as plain water, honey water, lemon juice, salt water, and other options you have at hand.
The experiment consists of soaking individual apple slices into different liquids and then observing the oxidation process to see if any of the liquids can stop or reduce it. Be ready to explain, in simple terms, what oxidation is and why some liquids can stop it while others can't. Here's the tutorial!
Testing Your Sunscreen
Most children think it's annoying when you chase them to apply sunscreen while they're spending time under the sun. This experiment can show them why it's so important and how sunscreen works. So, next time you want to apply sunscreen, they'll remember this and understand it's necessary.
You will only need sunscreen, construction paper, a paintbrush (or your children can use their fingers), and a paper plate. The experiment consists of painting shapes with sunscreen on construction paper before placing them under the sun for a few hours to see what happens. Kids will be fascinated by the results! Full tutorial here.
Make Instant Ice
Did you know that water can turn into ice as you pour it? You just have to let it freeze up until a certain point before you pour it. I'm sure you've seen this happen once or twice in your life by accident, but this experiment makes it a lot more fun.
All you need is a bottle of water and a ceramic bowl to make your kids feel like they have the power to control ice for a few moments. Watching the transformation from one state of matter is a great way to learn about how ice is made. Here's a guide to help you set it up.
Create a Lava Lamp
Lava lamps are so cool and you can make one at home with your kids. All you need is water, oil, Alka-Seltzer tablets, and a little food coloring for this easy experiment.
This is a great way to explain what density is and see it in action while having fun. Your children will love to see how the bubbles form, so prepare to make a few lava lamps in different colors. Here's the easy tutorial.
Whatever experiment you choose, one thing's for certain: your kids will have a great time while learning something new and nurturing their curiosity!