Posted on April 25 2022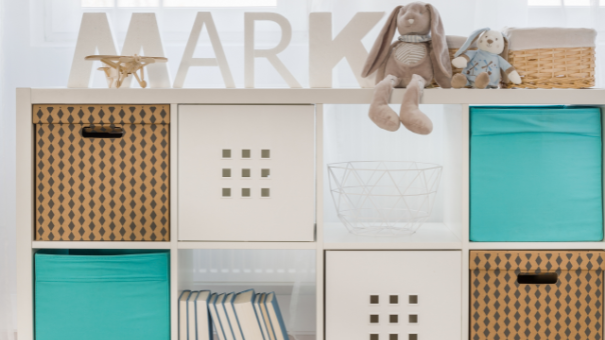 Cube storage is a solution to the continuous need for storage space. With children the need for more storage space is always problematic. Parents and care givers are forced to find solutions to store all the kids' toys, clothes, shoes, art etc. regardless of how much space we have.  It always seems that more space is needed.
Space Saving Storage for Kids Bedroom
Whether you need to store toys, stuffed animals, clothing, shoes or anything kids need to store, the portable kids wardrobe closet storage cabinet is ideal. It comes in either pink or blue with cartoon animal patterns on the doors. The wardrobe offers plenty of space as well as an option to add a hanging rail for clothes should this be necessary.
These easy to assemble cabinets are lightweight and easy to care for as they are dust resistant and include ventilation holes to promote air circulation. These brightly coloured box like storage systems are a fun addition to a child's bedroom décor.
The Yeya kids wardrobe clothes hangers are an essential additional to any child's wardrobe since most children's clothing either falls off the one side of the hanger or lands up in a pile on the floor. For this reason, the Yeya kids wardrobe clothes hangers will ensure that your child's wardrobe beautifully organised.  They come in packs of 20, in either pink, blue or white. They are the perfect size for kids clothing.
Designer Storage for Kids Toy Room
For more funkier, designer-style storage solutions look no further than the Grid Cube Storage option.  The effect created is one of industrial style décor and items can be delightfully displayed. Grid Cube Storage Sets range from eight to fifteen cubes and can be placed together to create a sufficient amount of storage.
Grid Storage Addons include baskets, trays and hook racks. These hook racks can be attached onto your Grid Cube Storage to making it more useful both inside and out.
Another fun addition to the grid storage option is the nifty foldable storage boxes available in Black, Grey or White and even Pink or Blue.
Fun Storage Solutions for Kids
The DIY Plastic Toy Organizer consists of four different coloured cubes that can be connected in various patterns or stacked on top of one another creating a cupboard-style, or placed on their backs creating cube bin-style, storage.
Manufactured from soft plastic material, these cubes are light weight and have no sharp corners. The DIY plastic organizer is easy to assemble and maintain. The dimension of each cube is: 147 x 37 x 39cm and comes with a transparent door, or lid, depending on how you arrange your cubes.
Wet Room/ Entrance Room Storage
If there is a place at your front door where stuff just piles up, the Creative Living Shoe Cabinet with Hat Rack is the ideal solution! A strong and sturdy cabinet made from high quality steel and environmentally friendly resin with plastic connectors is easy to assemble and easy to clean.
It boasts ample storage space for shoes, bags, hats and the like.
Cube storage solutions are the perfect storage option which can grow as your family's need for more space increases.  Look at the amazing designer storage solutions on offer at iKids.