Posted on October 19 2022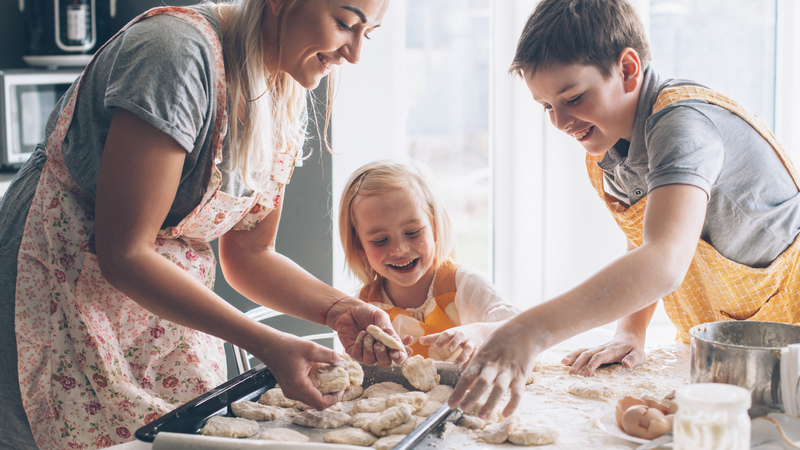 Cooking is not only an essential life skill, but it's also a lot of fun. Whether you're a good cook or not, it's important to teach your children how to cook and encourage them to have fun with it. Here are a few of the best kid-friendly recipes to start cooking with your kids!
4 Kid-Friendly Recipes
Tortilla Pizza
Making pizza dough is a little too advanced, but making a tortilla pizza is super easy. Most importantly, it's delicious! Everyone loves pizza and it can be a lot of fun to build your own right at home.
All you'll need is tortillas, shredded mozzarella cheese, pizza sauce, and whatever toppings your children enjoy most. Then, it's just a matter of taking the tortilla, covering it with sauce, cheese, and toppings and letting it toast in the oven or air fryer until the cheese is melted.
Egg Salad Sandwich
It doesn't get any easier than an egg salad sandwich! Your kids will have fun mashing the eggs, mixing the salad, and putting together their delicious sandwiches. All you need is hard-boiled eggs, mayonnaise, mustard, salt and pepper, and sliced sandwich bread.
When your eggs are done, you have to mash them with a fork but make sure there are still chunks of egg for some texture. Then, add mayonnaise, mustard, salt, and pepper to taste before mixing well. You can make the sandwiches with fresh bread or toast the slices first.
Macaroni Salad
Macaroni salad is a classic for a reason and it's also a lot of fun to make. This is the kind of recipe that you can make your own because you can add whatever ingredients your kids like most. It's creamy, flavorful, and perfect for a snack or as a side dish.
You'll need elbow pasta or any other kind of pasta shape you prefer, mayo, mustard, salt and pepper, and whatever ingredients you want to add. We suggest cubed ham and cheese, bell peppers, corn, onion, and celery, but you can add whatever you'd like.
Individual Apple Pie
Last but not least we have a dessert that's super easy to make! Apple pies are delicious, so you simply can't go wrong with this recipe. All you need is apples, cinnamon, brown sugar, butter, and pie dough squares or sliced white sandwich bread.
You just have to dice the apples and cook them with the butter, sugar, and cinnamon until they're soft but chewy and caramelized. Then, grab your pie dough squares, stuff them, close them up with a fork and apply egg wash on top.
If you're making this with sliced white sandwich bread, flatten the bread slices a bit and follow the same process. Then, bake them or air fry them until they're nice and golden!
Cooking with your kids is one of life's simple joys. It's fun and it allows them to learn new things while also practicing counting, vocabulary, and more. Plus, you have something delicious to eat together when you're done!