Posted on June 25 2020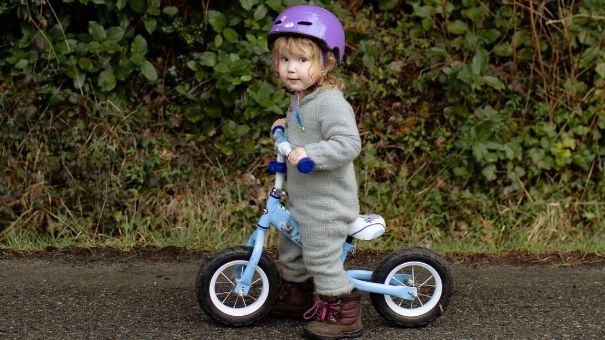 Balance bikes are pedal-less bikes that are perfect for toddlers because they will learn how to properly balance on two wheels. There's a learning curve to it, but once your little ones get passed it, they will learn to ride their bike effortlessly and even do tricks such as jumping or coasting without any assistance.
These bikes are the perfect replacement for tricycles and training wheels because they're meant to be used during this age and will teach your child to ride more easily. Toddlers as young as 18 months old should be encouraged to use balance bikes because they provide a ton of benefits. If you're unsure about whether it's a good idea to get your kid a balance bike, let's discuss their benefits!
Ease of use
The number one benefit of balance bikes for kids is that they're easy to use and they will teach your children what they need to become comfortable on a 2-wheel bike. Firstly, they will learn how to balance because, once you remove the pedals from the equation, balancing becomes the primary focus. Secondly, they'll learn how to use their feet to steer, stop, and turn around, which will teach them about control. This is how balance bikes make learning easier but still challenging enough to be fun!
Safety
The second greatest benefit balance bikes have to offer is that they provide a safe way to learn how to ride a bike. Balance bike seats are a lot closer to the ground, so if your little one falls off it, it won't be scary or too painful. Also, balance bikes reduce the risk of crashing because they only go as fast as your children can push.
Strength and coordination
Balance bikes won't only teach your children about balance and control, they will also promote strength and coordination. The design of these bikes encourages kids to use their arms and legs so they will build up their strength because it's a great exercise. If you want your children to be active, this is one of the best ways to encourage physical activity. Not to mention balance bikes will also increase coordination, agility and gross motor skills!
Convenience
Another great benefit balance bikes have to offer is convenience. Especially for parents! Why? Because their compact design will allow you to take the balance bike anywhere your child wants it to go. Plus, they're small enough to fit in the backseat and they're light enough that your children can carry them themselves when it's time to go back home.
No training wheels necessary
Once your children go through the balance bike learning curve, they'll be ready to ride a bike on their own. This means that you won't need to invest on tricycles or training wheels because balance bikes teach your children the skills they need to safely and confidently ride a regular bike.
Without a doubt, the benefits of a balance bike far outweigh the old-school way of learning to ride a bike with training wheels. They are a great investment and quickly enable kids to be confident and independent so they can have the joy of riding on their own!