Posted on October 05 2022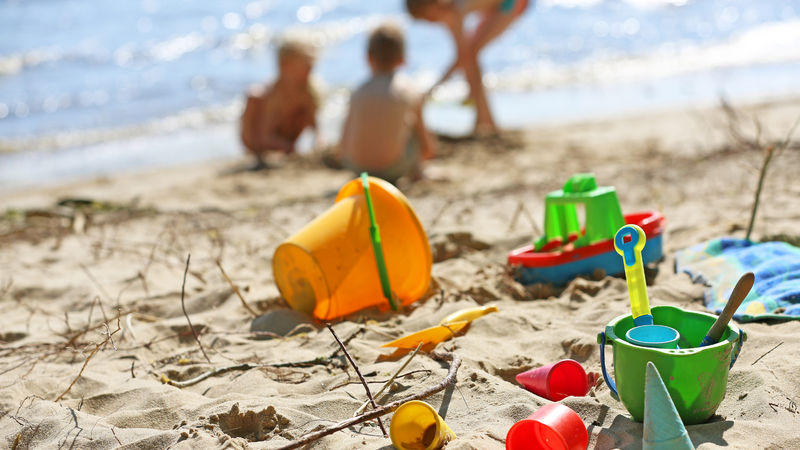 Spending a day at the beach is all about having fun under the sun, so make that your top priority, right under keeping your children safe and fed. Now, there are many amazing things you can do with your kids at the beach. To help you choose, here are a few games everyone will love!
5 Fun Beach Games for Kids
Beach Scavenger Hunt
One of the easiest ways to keep kids entertained at the beach is to go on a scavenger hunt. Just bring a basket and start exploring! Now, you can make a list of things that are usually easy to find at the beach and see how many items your kids can find.
Or you can just get out there and see what you find together, there doesn't have to be an end goal. Scavenger hunts are not only fun, but they're also educational. Your children will learn new words and learn about new things like sea shells, etc.  
Skee Ball
To play this game, you have to draw circles at different distances and give each of them a value number. Then, draw a line in the sand at some distance, which is where the kids will stand to toss a ball or other small objects at hand to earn points.
Build Sand Castles
A trip to the beach is not complete unless you build a sand castle with your kids. You can purchase a beach bucket set or bring a few pots of different sizes to see what you can make.
We recommend you look up a few tips on how to build sand castles so you're a little familiar with the process. Let your children's imaginations run wild and bring small toys so they can play with the sand castle when it's done.
Rock Painting
This is not exactly a game, but kids will enjoy it very much! Especially if they're artistic. You just need to pack a few art supplies, such as paint or paint markers. Also, you need smooth rocks, which you can find on the shore with your kids or bring from home. Paint the rocks with your children and, once they're dry, hide them around the beach for others to find in the future.
Musical Towels
This is like musical chairs, but with towels. Just place some towels in a circle, make sure there's one fewer towel, and play music. Kids have to walk in a circle over the towels and, once the music stops, they have to lie down in the nearest towel.
The player who doesn't get a towel is eliminated and a towel is removed. Continue like that until you have a winner. Speaking of towels, are your children Marvel lovers? Get them a Hulk, Spider-Man, Thor, Captain America, or Captain Marvel towels!
These are only a few of the many beach games for kids to ensure that you all have a super fun day! Whatever you decide to play, you'll all have a great time.