Posted on March 29 2022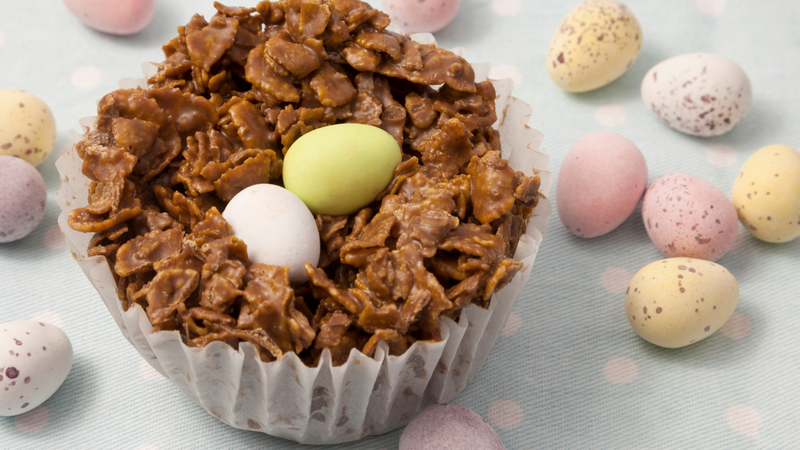 Easter is definitely one of the highlights in the year for most children. They wake up on Easter morning and hunt for treats left behind by the Easter Bunny. This may be a parent's worst nightmare because most often the easter treats available are chocolate or sugar coated and not very healthy nor nutritious at all.

Not all chocolate and sweets are bad, everything in moderation. We have some great nutritious ideas to incorporate in your usual treats ensuring the tradition is still a fun-filled experience.

Healthy Easter Treat Recipes

Fruit Easter Egg Cookies
Ingredients
Fruit (Bananas, Apples, Pears)
Plain Yogurt, Think Greek!
Honey / Syrup
Sprinkles
Method
Mix the honey and yoghurt together leave in freezer for about 10 min
Slice fruit about 0.5cm thick and cut with an egg-shaped cookie cutter
Spread the chilled yogurt onto the fruit pieces.
Top with sprinkles
Healthy Chocolate Easter Eggs
Ingredients
Dates
Cocoa
Boiled Water (small amount)
Peanut Butter
Desiccated Coconut (to cover optional)
Method
Break the dates up into pieces or roughly chop them.
Almost cover them with boiled water, allow them to soak and soften and absorb the water
Add peanut butter and cocoa powder to reach a moldable consistency.
Put the bowl in a freezer for about 10 minutes to chill
Scoop out the mixture and mold into egg shapes
Dust with coconut or cocoa powder
Wrap them in tin foil to hide or place them into a cupcake casing to serve.

Easter Bunny Trail Mix
Ingredients
Pre-made Popcorn
Pretzel Snack Mix
Smarties
Raisins and/or dried cranberries
Mini Marshmallows (optional)
Method
Mix all the ingredients together proportionately and serve in a paper cup with a bunny face drawn onto it, in marker pen or in a paper bag with a bunny face and ears drawn onto the bag.
Rice Krispies Easter Eggs

Ingredients
¾ cup maple syrup/ honey
¼ cup coconut oil
¼ cup peanut butter or almond butter (optional, leave this out for nut-free)
1 teaspoon vanilla extract
¼ teaspoon sea salt
4 cups Rice Krispies cereal
Method
Place the syrup or honey, coconut oil and peanut butter into a saucepan.
Melt over medium heat and bring to a simmer. Simmer for 1-2 minutes
Remove from the heat.
Stir in the vanilla and sea salt and mix well.
Add the Rice Krispies cereal and stir to evenly mix.
Lightly grease plastic egg shapes.
Using lightly oiled hands, fill the eggs with the Rice Krispie mixture.
It will be sticky and seem like it's falling apart, but pack it in as tightly as you can.
It will stay together once it cools.
Place the eggs in the freezer for 20-30 minutes.
Remove the eggs from the moulds

Wrap them in foil to hide or serve them as they are.

Coconut Ice Mini Easter Eggs
Base Ingredients
1/4 cup coconut oil
2 tbs almond milk
1 tbs raw honey
2 cups shredded coconut
Superfood Colouring Options:
1/4 tsp ground turmeric / beetroot powder / wheatgrass powder
Method
Mix all the base ingredients together in a blender until mixtures holds together.
Divide mixture evenly into 3 small bowls.
Colour each bowls contents with your superfoods of choice, using between 1/8-1/4 of a teaspoon per batch to reach desired colour. Mix well with a spoon or spatula.
Roll teaspoon size balls of mixture into little egg shapes.
Place eggs into the fridge for 20 minutes or until firm.
Add them into a mini basket or cupcake casing to serve.
They will keep in an airtight container in the fridge for approximately one week.

Hunting for Easter Eggs are a great tradition in most families, and the treats don't necessarily have to be unhealthy. We have provided 5 Healthy Easter Egg Treat Recipes that are both fun and tasty.