Posted on February 25 2022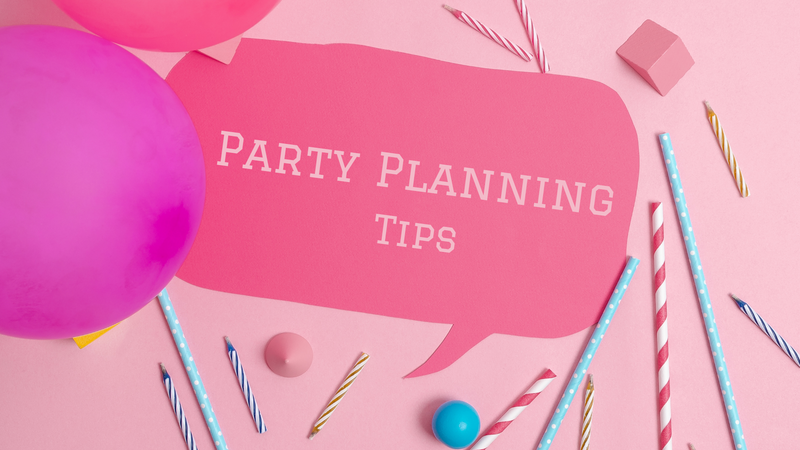 After 2 years of lockdown and social distancing, parties are finally back on the cards! Are your party planning abilities still relevant? Take this opportunity to wow your guests with these 4 important party planning tips.

It's often the little things and the small touches that people remember. Planning is an integral part of ensuring that your guests have the most memorable experience. A well-planned party or event ensures it's success.

The Most Important Party Planning Tips:

THEME
While toddlers will not relate to an 80's themed party.
Choosing a present-day theme will also ensure that the snacks, décor and paraphernalia are appropriate.

LIST OF LISTS
Here's our list of lists that should guide you and ensure that your party is a great success.
- Guest List – having the correct numbers is important
- Décor Ideas
- Catering Ideas
- Dietary Requirements
- Games
- Shopping List
- Gift List
- Thank You List

DÉCOR
Theme and style dependent, the décor can range from simple table décor to full-on colour coordination of your entire house or chosen venue, and everything in between.

Quick and easy wow-factor décor –
If you have limited time to set up and take down all the décor you may want to consider making your décor a part of the party gift for your revelers.
Balloons:
Decorative Balloons are an easy and a great way to decorate a kiddies party with very little effort. Stringing some balloons up in and around will easily get them in the mood and mesmerise little ones. Take it one step further and add some foil balloons which come in so many shapes and sizes, that they really do add a different and fun element to any party area.
Kids love to take a balloon home after the party which makes for a very special and memorable gift for each child.
Look at the variety of balloon pack and foil balloons on offer from iKids.

In the spirit of keeping waste to a minimum and also being kind to the planet it is good to know that Foil Balloons are recyclable and reusable.

Plants/ Flowers:
A potted succulent makes for great table décor and then gifting them to your guests will most certainly ensure their day as they remember your party with fondness everytime they look at their potted gift. Moreover, for weddings and formal events Orchids or Love Palms are another form of joy to use as décor.

Streamers and lanterns:
Cost effective and guaranteed to give your party a well-rounded feel, streamers can be twisted and fastened onto the ceiling and walls, tied in bows around trees, looped and draped as chains, folded together to create a collage of colour.
Lanterns on the other hand can be suspended from ceilings and hung in trees, they can be placed in groups or arranged in patterns. As they are light and can be flat-packed they are easy to store to reuse again at the next party.

Slightly more challenging décor – great for theme continuity
Some added décor ideas that may need to be outsourced, depending on your skill set. It's always fun to expand your own expectant capabilities and meet the challenge in finding something unusual to make your party unique.

Party Cake:
A birthday cake is usually the centerpiece of the festive table. It is however, not just about appearance but also about flavour. The perfect balance of icing and cake, with the sponge that is not too dry. If your choice is an ice-cream cake take the weather into account. I think we all agree that an ice-cream cake is splendid in summer but maybe not so much in winter.

There are so many options when choosing the perfect cake for the occasion.
A few other ideas to consider:
- Pancake stack cake
- Mousse Cake
- Cake Pops
- Cupcake Cake Tower
- Donut Cake

Photobooth / Giant Frame:
A place to take party-themed photos is a terrific way for guests to create lasting memories of your party. Whether you hire a professional photobooth for guests to stand in or create a giant themed frame for guests to stand behind, photos are so worth the effort in creating a party-fantastic feeling and adds to the party-favours too.

PARTY-FAVOURS
The best party-favours are the ones that remind the guests of the party, the person that celebrated and also a wonderful reminder of the reason for the celebration.

Although balloons and plants, as mentioned above are excellent in saying, there are various many different gifts that say "Thank you for coming to my party" but there are so many various gift ideas as well.
- Bubbles – jars of bubbles are another idea for guests young and old
- Photo – a photo of the day is also a great memento to treasure
- An Activity Box – something to do or make after the actual party day is over
- A specially selected item that is a reminder of the theme and/or the person being celebrated.
The list for party-favours is endless if careful thought and planning is made it can make a lasting impression.

We've unpacked 4 of the most important party planning tips for the year as the post-covid party scene gathers momentum. Glitz-and-glamour with quick and easy décor ideas and innovative, thoughtful ways of saying 'thank you' to your guests. Your party planning must-haves for every occasion from baby showers to kiddies, tweens and teen parties.