Posted on November 09 2022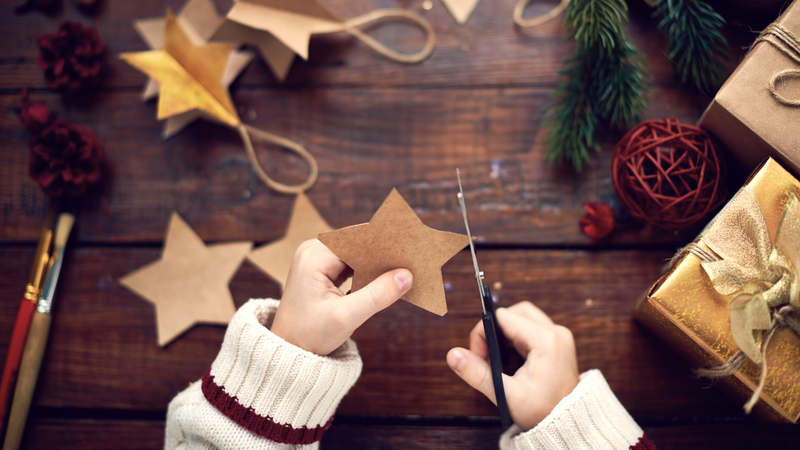 The holidays are coming up and that means it's time for festive crafting ideas to spend quality time with the kids. DIY Christmas projects are always a lot of fun but it's not always easy to decide what to do.
There are so many festive crafting ideas out there, so it can be difficult to decide what to do. Today, we have narrowed it down to 4 easy and inexpensive festive crafting ideas so you can start the holiday season on the right foot.
4 Festive Crafting Ideas for Kids
Holiday Card Wall Christmas Tree
If your children want to decorate their bedroom for the Christmas season, this festive crafting idea is the right way to go. All you need is holiday cards, whether old or new and double-sided tape. You can even make holiday cards together.
Once you have them, glue them to the wall in the shape of a Christmas tree. At the base of the tree, you can place a galvanized bucket or box where you can leave little trinkets, holiday letters, and candy for your children to discover every day until Christmas.
Cookie Cutter Christmas Tree Ornaments
Did you know that you can use Christmas-themed cookie cutters to make ornaments at home? It's super easy! All you need is gift wrapping paper with different festive patterns and cookie cutters.
To make the ornaments, you just have to trace the cookie cutters into the paper and cut them out. Then, apply glue around the edge of the cookie cutter to glue the paper. Let it dry and attach a loop of cord to the back of the ornament. Let it fully fry and then hang them on your tree!
DIY Snow Globe
Making a DIY snow globe is a great way to start the holiday season. You will need a mason jar or cookie jar, cotton balls, a fine-tipped brush and white paint, and small trinkets, such as snowmen, mini-Christmas trees, reindeer, etc.
You want to start by painting small white dots on the outside of the jar to make the falling snow. You can also paint snowflakes. On the inside, you can use cotton balls to make the floor and place the trinkets to make a little Christmas scene. Alternatively, you can use snowball cookies instead of cotton balls for the floor and give the snow globe as a gift.
DIY Christmas Stockings
DIY Christmas stockings are very easy to make and they will look beautiful hanging on the mantle. You will need felt, fabric scissors, paper, a pencil, needle and thread, string, and glue.
Draw a stocking shape on the paper and cut it out to use as a template. Then, trace it on the felt and cut it out; make two pieces. Stitch the two pieces together while leaving the top open. Cut out felt shapes in a contrasting colors to make the pattern of the stocking and then glue them on. Lastly, secure a loop of string so you can hang the stocking and label them for each child.